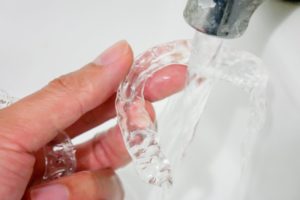 It's no secret that ClearCorrect is a much more convenient way of straightening your teeth than traditional braces. With these clear aligners, you won't have to worry about your orthodontic treatment being noticeable to the people around you. That is, unless you don't take good care of your trays! If you don't clean them properly, they could stain and become immediately visible in your smile. To keep your treatment seamless, follow these dos and don'ts of cleaning your ClearCorrect aligners.
Do: Remove Your Aligners Each Morning & Thoroughly Clean Them (& Your Teeth)
As you sleep, bacteria can build up on your teeth and aligners. So, the first thing you should do when you wake up is take out the trays and clean them. Then, brush and floss your teeth before putting the aligners back in your mouth. It's also a good idea to repeat this process right before bed.
Do: Rinse the Trays Whenever You Take Them Out
In addition to your morning and nighttime cleaning routines, you'll also want to rinse your ClearCorrect aligners every time you take them out of your mouth. This will clear away any dried saliva and plaque buildup that could discolor your trays and make them smell or taste foul. You can also run the aligners under cool or lukewarm water (never hot water – it could warp the plastic's shape) and gently scrub them with a soft-bristled toothbrush (different from the one you use on your teeth) and a small amount of antibacterial hand soap.
Do: Brush and Floss Before Putting the Trays Back In
After you eat, always remember to clean your teeth before placing the aligners back in your mouth. Otherwise, the trays will trap any leftover food particles against your teeth. Not only can this cause staining, but it also increases the risk of tooth decay.
Don't: Eat or Drink While Wearing the Aligners
While your ClearCorrect trays are in your mouth, the only thing you should consume is plain water. Anything else could stain your aligners and leave behind debris that feeds cavity-causing oral bacteria. Additionally, the trays aren't meant to withstand chewing pressure, so they could become damaged.
Don't: Leave Your Aligners Out in the Open
When you're not wearing your aligners, you should always keep them in their designated storage case. Leaving them out in the open air exposes them to all kinds of germs, which you would then directly introduce into your mouth. You also run the risk of misplacing your trays if you were to leave them on a napkin or lunch tray.
Don't: Clean Your Trays with Toothpaste or Colored or Scented Soaps
Most toothpaste is actually abrasive to the plastic material the aligners are made from. Cleaning them with toothpaste can leave tiny scratches that damage the aligners. Scented or colored hand soaps can leave residue on the trays that discolor them and cause an unpleasant smell or taste. Instead, use clear hand soap.
As long as you follow this guide, your ClearCorrect aligners should stay in great shape for the duration of your treatment. You'll have a healthy, straight, and confident smile before you know it!
About the Author
For more than two decades, Dr. Wesley Parks has helped his patients smile more brightly, through top-quality dental work as well as fun conversations in the treatment chair! Since earning his dental doctorate at the University of Nebraska Medical Center, Dr. Parks has amassed hundreds of hours of continuing education courses in several areas of dentistry, including orthodontics with ClearCorrect clear aligners. To learn more about what to expect with ClearCorrect in Lincoln, NE, or to get the process started, you can contact Parks Family Dental at (402) 484-6042.