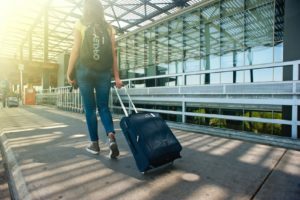 Children are out of school for summer, which means it's a perfect time for a vacation. As you book your hotel and plan your itinerary, don't forget to schedule an appointment with your dentist before you leave. The last thing you want to interrupt your travel plans is a dental emergency. Here's why you should schedule a cleaning and checkup before hitting the road.
Look and Feel Your Best
Brushing and flossing are effective at keeping your teeth and gums healthy, but your toothbrush and floss can't reach everywhere in your mouth. Plaque and tartar can accumulate, making your teeth look dirty and unhealthy, increasing the likelihood of oral health issues. A dental cleaning will remove any buildup to give you a sparkling smile you'll be proud to show off in your vacation photos.
Avoid a Dental Emergency
Although you may never expect it to happen to you, 1 in 6 Americans experiences a dental emergency annually. There's no worse time to require immediate dental care than when you're away from home. Not all dental emergencies result from an accident or trauma. Instead, many are caused by untreated dental problems, like cavities. 
You can lower your risk of a dental emergency by scheduling a checkup with your dentist. They'll examine your mouth to look for anything concerning, like tooth decay or a compromised filling. You can have it treated before departing to ensure it doesn't turn into a big problem while you're traveling.
Reduce Your Dental Expenses
A cleaning and checkup not only promotes healthy teeth and gums, but you'll also have more spending money in your pocket. Research has found that every $1 spent on preventive dental care can save up to $50 on restorative and emergency fees. Preventative appointments stop common oral health issues from occurring in the first place, so you're less likely to need costly procedures later. You'll ensure your smile looks its best, while also cutting your overall dental expenses.
You can prevent a dental emergency while you're away by making your oral health a priority. Commit to brushing twice daily or after every meal if you're snacking more often. Don't forget to floss before going to bed. If you'll be participating in any sports, wear an athletic mouthguard to safeguard your smile. 
With the right preparation before your vacation and extra attention to your dental hygiene, you can ensure a dental emergency doesn't ruin your getaway.
About Dr. Wesley Parks
Dr. Parks earned his dental degree from the University of Nebraska Medical Center and has completed hundreds of hours of continuing education in various specialties, like dental implants, general dentistry, and cosmetic dentistry. He strives to help each patient achieve a healthy, beautiful smile using the latest solutions in dentistry. Request an appointment through our website or call (402) 484-6042.